News
Water Extraction in Your Home or Business
Leave it to the Professionals!
Nov 13, 2017
Standing water is harmful to your home or business because it is a breeding ground for bacteria, mold and mildew. Mold and mildew can grow quickly in a wet or damp environment. Immediate removal of standing water is important to minimize carpet and other property damage, and to prevent mold and bacteria growth.
Water extraction is the first step in water damage mitigation and restoration. Successful water extraction will assist in the drying process, and make the restoration process for water damage a lot smoother. The first step, though is to shut down electricity and get all electric items away from the water. Water and electricity are a dangerous combination. Water should be removed from the affected area as soon as possible, unless it is sewage water or the water looks unclear. If so, the water may be contaminated and you should avoid all contact.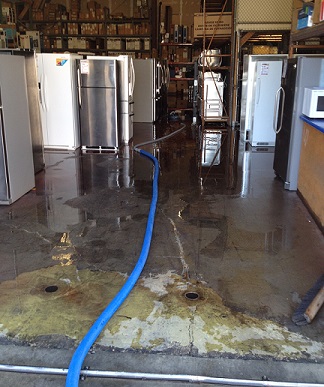 If the water is still flowing, find the water source and try to stop it. If it's an appliance, a burst pipe or leaking faucet, turn off the water mains to the home. If it's a leak in the roof or a sewage overflow, try to confine the water to the smallest area you can. Drain the water - if you have a place to drain the water to, but if not, wait for the professionals to arrive. This can be done with a mop, towels, or whatever you can move and blot water with.
Flood water extraction is time-consuming task that requires professional expertise and equipment. Although it is possible for you to handle this task with the proper equipment, hiring a professional restoration company to do it is often the best idea, since it can expedite the matter a great deal. Additionally, professionals may have access to some equipment that may be difficult to acquire through hardware stores. A professional restoration company has the training to do what it takes to extract floodwaters from your home when you need help the most.
A professional water extraction company, like Hazelton cleaning, will check if the water is only on the surface or if it has dripped into some less wanted places such as into the drywall, under the wood floor, down to the basement or any other place where water doesn't belong. Once the water has been removed, drying the area affected is crucial to prevent mold growth and ongoing water damage.
Hazelton Cleaning takes all the necessary steps to ensure that your home is dry and sanitized, so that there will not be health risks later. Our company is dedicated to providing our customers with the best water removal service in the Central San Joaquin Valley. Our Emergency water removal teams are on call 24 hours a day, 7 days a week. Hazelton Cleaning uses commercial grade equipment to remove and dry water including, pumps, fans, and dehumidifiers. After removal, a thorough inspection using moisture detection tools, will ensure that your home or business is completely dry. Removal of debris and restoration will return your property to its' original condition.
Also, don't forget to call your insurance company as well. Sudden water damage is often covered by most homeowners insurance, and so is the water extraction to restore your property. Call your insurance and find out what you're entitled to receive under your policy terms.